Write Songs … A Hands-On Workshop
Saturday, March 4, 2023*
10am – 3pm
$125 per person (includes craft coffee and a street taco)
$160 per person (workshop & March 3 performance)
* Paid reservations required | Transferable | No Refunds
Venerated songwriter and recording artist, Darden Smith will lead
a hands-on workshop for 15 aspiring artists at Pratt's Books in Graham Texas.
About The Workshop:
All levels are welcome – seasoned vets as well as those just dipping their toes into the songwriting pool for the first time. Darden has a hands-on approach that encourages songwriters to take risks, be brave, and dig deep. Writing is a part of this workshop, and participants will emerge with new ideas and new song starts. The group will quickly form into a supportive creative environment; friendships will be made, bonds formed, and new work will rise from the prompts. Methods and encouragement provided in this 1-day (5 hr) session.
1. How to discover and bring forth songs from your own life experience
2. How to develop your unique writer's voice
3. The relationship between melody and lyrics
4. Song structure and forms to help you bring your song to the finish line
5. How to break fear-based writing patterns
6. How to take more risks
7. Best practices to build a writing life (how to observe and think like a writer every day)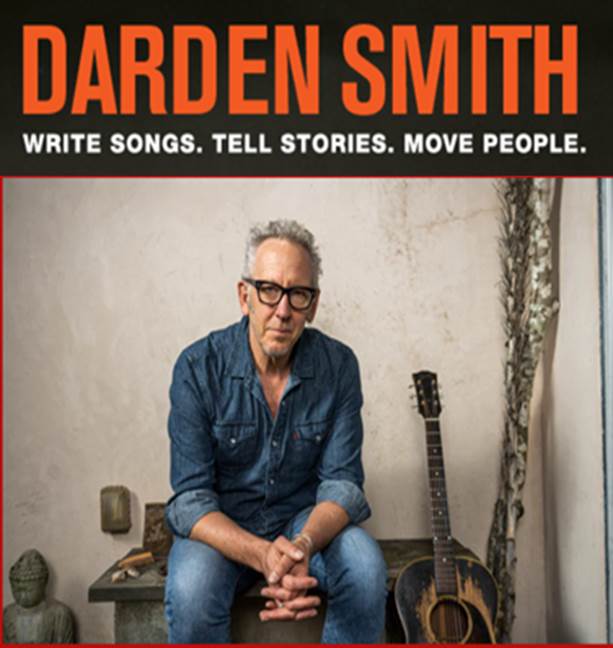 About Darden Smith:
Over The course of his remarkable three-and-a-half decade career, Smith has released 15 critically lauded studio albums, landed singles on both the country and pop charts (including the Top 10 hit "Loving Arms"), penned a symphony, scored works for theater and dance, published a widely celebrated book, exhibited works of visual art and co-founded the non-profit Songwriting With Soldiers program. The Daily News hailed Smith as "one of the most respected American musicians working today" while the Austin Chronicle dubbed him a "master song craftsman" and AllMusic called him "a singer-songwriter blessed with an uncommon degree of intelligence, depth and compassion."